Twin Peaks: Fire Walk With Me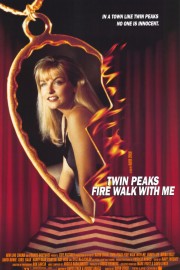 It's kind of striking how much my memory of "Twin Peaks" and its cinematic prequel, "Fire Walk With Me," seemed to hold loftier places in my memory in terms of David Lynch's career than they do after watching them again after about 15 years. The second half of season two revealed the fundamental flaws within that season greater upon second viewing, and "Fire Walk With Me" doesn't feel quite as engaging seeing it again. It's still one of the most ambitious films of Lynch's career, and probably the best straight "prequel" ever made (I'm not including "Godfather Part II" in this), but something about the film, which deals with the murder of Teresa Banks, and then the last week of Laura Palmer's life, feels inauthentic in not necessarily how Lynch approaches it, but how the actors play it, especially when we are reintroduced to the town of Twin Peaks, and see the life of Laura Palmer (Sheryl Lee) as she lived up to the moment of her murder by her father, Leland Palmer (Ray Wise). No, I am not going to shy away from spoilers here; chances are, if you're reading these words, I'm guessing you've either seen the film before, or are a fan of the soap opera world Lynch and Mark Frost created back in 1990.
The film begins with the murder of Teresa Banks, who was the first victim of Leland, aka "Bob," the supernatural entity that possessed Leland and led him to kill Teresa and Laura. Sent to investigate the care are FBI agents Chester Desmond (Chris Issak) and Sam Stanley (Kiefer Sutherland). The picture they get of Teresa is of a drifter who did not really become friends with anyone. A lonely life, met with a terrible end. As Desmond explores a possible clue at the trailer park where Teresa lived, he mysteriously disappears, leaving Gordon Cole (Lynch himself, reprising his role from the show) to bring in Dale Cooper on the case. Cooper's supernatural leanings are already in full-swing before we flashforward one year to Twin Peaks, and Laura's life. A homecoming queen on the outside, she is actually quite promiscuous and has become involved in doing drugs. She is quite unhappy, and when we see that pages from her diary have been removed, the stage is set for her terrible demise.
While Lynch brings back many characters from the TV show, and shot hours of footage that wasn't used here, the key characters are Cooper (in an abbreviated role), Laura, Leland, her best friend, Donna (played by Moira Kelly after Lara Flynn Boyle declined to reprise the role), James Hurley (James Marshall), and Bobby (Dana Ashbrook). Gone are the subplots that seemed to drag down the series's second season, and a return to the mystery of Laura Palmer that drove the show's first 18 episodes into TV history. There are individual moments that ring hallow with over-performance on the part of Lee and Wise, in particular, the emotional pull of Laura's downward spiral, and especially her desire to keep Donna from falling down the same rabbit hole herself, keeps us glued to the screen as we see the tragedy unfold on-screen. Lynch's visual style, in particular in the film's darker, more surreal moments, is bolder, befitting the film's freedom over television constraints, while Angelo Badalamenti's score captivates us with a harsher edge. I would still put the film a step below the original series (we'll see what happens when I start the new run of the show), but "Fire Walk With Me" is a powerful look at self-destruction that will rock the lives of all involved, and is a fascinating chapter in the career of one of cinema's most ambitious storytellers.