White Christmas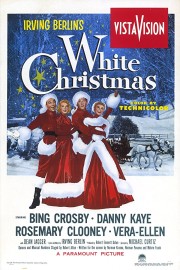 Michael Curtiz's "White Christmas" is my wife's favorite Christmas movie. She showed it to me the first holiday season we were a couple, and, being a big ol' softie, I fell for it hook, line and sinker. Of course I had heard the Irving Berlin song for years, but as a movie, I was only familiar with it as the film Clark Griswold is reference during a rant at the end of "Christmas Vacation" when he talks about "Bing Crosby tap dancing with Danny fucking Kaye." "Christmas Vacation" is still more of a personal favorite over it, but I'm not going to lie- now my holiday season requires this sappy, entertaining musical for completion.
The film starts in WWII, as Bob Wallace (Crosby) and Phil Davis (Kaye), part of the Army 151st division, are performing for their fellow troops on Christmas while their commanding officer, Major General Waverly (Dean Jagger), is relinquishing command. Not long after their new commanding officer is taken back to base, the battle commences, and Phil saves Bob from having a wall fall on him. At this point, Phil pushes Bob, a well-known entertainer back in the States, to do a show together when they get out of the Army. Reluctantly, Bob agrees, and it's a huge hit. Cut to 10 years later, and they are still going strong. They are invited by a former Army buddy to check out an act his sisters- Betty (Rosemary Clooney) and Judy (Vera-Ellen)- have going, and before they know it, they're headed to Vermont with Betty and Judy, and in for more than they bargained for this Christmas when they find Major General Waverly hit upon hard times, running an inn in Vermont the girls are supposed to perform at.
On the surface, this is as facile and saccharine a Christmas movie as anyone has ever produced, but there's a layer of a "forgotten soldier" storyline when the men run into Waverly that really helps anchor the film from being just a bland Hollywood Christmas musical. Well, that, and the songs by Berlin that drive the emotional landscape of the film between post-war drama and romantic comedy and joyous musical for the season, and includes a new version of the titular song (first sung by Crosby in the 1942 film, "Holiday Inn") that caps this film with a lush, old-Hollywood bow. I think this was my first experience with all of the leads, and they have lovely chemistry together, and each have different notes to play. If the movie were just about Crosby and Kaye's characters, it would work just as well. Or Crosby and Clooney. Or Kaye and Vera-Ellen. Or Clooney and Vera-Ellen. Yes, the script by Norman Krasna, Norman Panama & Melvin Frank would need altered a bit, but my point is that, it doesn't matter which of these character pairings in on-screen, or the focus of a scene- they all work effortlessly. My favorite moments are both iterations of "Sisters" that happen before the quartet get to Vermont; the emotional pull of "What Can You Do With a General?" and "Gee! I Wish I Was Back in the Army," and the genuine feeling those songs have behind them; Phil and Judy's romantic dance together in "The Best Things Happen When You're Dancing," and the quartet dreaming of a snowy winter in Vermont with "Snow." This is only the third of Curtiz's films I've seen from his career, but like the other two ("The Adventures of Robin Hood" and "Casablanca"), "White Christmas" displays an effortless gift for staging and tone that shows why his best films have endured over the years. All three of the films of his I've seen are in my collection, and I wouldn't have it any other way.