Women on the Verge of a Nervous Breakdown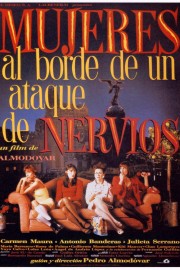 Pedro Almodovar must adore soap operas. I can't imagine much else makes the Spanish master cackle with glee more than an outrageous TV melodrama that twists itself in absurd knots while pitching the drama to a level beyond normal human interaction. More than anything else, Almodovar's films pay homage to melodrama, where the emotions are big and the actions they inspire are bigger. No film I've seen of his strays too far from this notion, and it's funny that I've come to appreciate the films of his I've seen, whether it's "Live Flesh" or "Bad Education," "Talk to Her" or "Tie Me Up! Tie Me Down!." or "Volver" or this film, arguably his most famous, if only because of its insane title. No American filmmaker could ever do this type of film better, although if you wanted to try and convince Tommy Wiseau tried with his batshit crazy cult film, "The Room," I'd honestly find it hard to argue with you.
"Women on the Verge of a Nervous Breakdown" centers around the comic soap opera playing out between Pepa (Carmen Maura) and Ivan (Fernando Guillen). They have had a years-long romantic relationship after Ivan's wife, Lucia (Julieta Serrano), goes away to a mental hospital, that has just ended, and Pepa is not taking it well. Both are actors who work in dubbing movies with Spanish-language tracks, and that theatricality causes the events in this film to play out pitched like we're watching one of the movies they dub play out. Pepa is frantically trying to get Ivan to talk to her, and a series of missed connections puts her in orbit of not just Lucia but his son (Antonio Banderas), his son's fiancee (Rossy de Palma), and a lawyer (Kiti Mánver) who represented Lucia. That last one happens when Pepa's friend, Candela (Maria Barranco), comes to her in a panic because she unwittingly aided three Shiite terrorists who were plotting to hijack a plane, and she doesn't know what to do.
Almodovar loves old film genres probably as much as he likes soap operas, and that is evident in the screwball romantic comedy manner in which "Women on the Verge" goes about its business. We get madcap chases with Pepa enlisting a supportive cab driver (Guillermo Montesinos) on her quest to get close to Ivan; unexpected romantic complications for Carlos, Banderas's character, when Pepa is trying to juggle all these plates at the same time; and a tinge of Hitchcockian suspense, albeit with a wicked comic sensibility, when tensions arise with the police, and Pepa stalking Ivan. While I can't put it on quite the same level as I can, say, "Volver" or "Talk to Her," it's not for a lack of acting chops, and there isn't a false note rung by anybody in the case, with Maura shining spectacularly as the most prominent woman on the verge of a nervous breakdown in the title. She is a tour de force (even though the shoot was evidently Hell, and strained her relationship with Almodovar), and it's easy to see why this film vaulted the writer-director to the center stage of world cinema.